DISNEY NEWS ROUNDUP: Prices Going Up on Tickets, Parking & More; Tons of New Menu Items; New Live Entertainment News & More
We normally can't wait for the latest news from Disney. This week, unfortunately, a lot of it had to do with price increases. We also learned about the new live show on the upcoming Disney Treasure, Disney Cruise Lines' next ship. There is also food and drink news from around Disney World, including a bunch of new menu items at Animal Kingdom. All this and more below in this week's news roundup.
1 – Disney Raises Prices on Parking, Annual Passes & Water Park Tickets at Disney World
Annual price increases at Walt Disney World are something we've just gotten used to. This week, Disney raised prices on theme park parking, annual passes, water park tickets, and more. Get all the details at the link below.
Click here for information on price increases at Walt Disney World.
2 – New Menu Items at Disney's Animal Kingdom
Heading to Disney's Animal Kingdom? There are a lot of new food and beverage items that are now available at the park that look fantastic. We can't wait to try some of the new items. Learn more below.
Click here for details on the new menu items at Disney's Animal Kingdom.
3 – Disney Raises Prices on Memory Maker at Walt Disney World
Another popular item that received a price hike is Memory Maker, the photo package that allows guests to download photos taken by PhotoPass photographers from their vacations. The previous price had been at that level for many years, so we're not surprised that this, too, received a price bump. Learn more at the link below.
Click here for details on the price increase for Memory Maker at Walt Disney World.
4 – Disney Cruise Line Announces New Show Debuting on the Disney Treasure
When Disney Cruise Line revealed details on the upcoming Disney Treasure in early September, not all details were announced. This week, Disney Cruise Line announced the new Broadway-style show that will debut and be exclusive to the new ship that is set to sail in December 2024. Learn more at the link below.
Click here for information on the new show coming to the Disney Treasure.
5 – Medals Revealed for the 2024 runDisney Princess Half Marathon Weekend
This week, runDisney revealed the medals for the 2024 Princess Half Marathon Weekend. They look amazing. See photos at the link below.
Click here for photos and details of the medals for the 2024 Princess Half Marathon Weekend.
6 – New Fall and Halloween Menu Items at Restaurants at Disney Springs
There are a few Fall and Halloween menu items from restaurants at Disney Springs, including spooky cocktails and decadent mocktails, plus new fall-themed dishes now available. See below for full details.
Jaleo Disney Springs
Available all season long, the Apple & Saffron is a signature mocktail, made with Seedlip Garden, apple juice, lemon, saffron and Fever-Tree Club Soda. While enjoying the taste of fall in a glass, guests can indulge in some newer menu items inspired by the flavors of fall, like Mero con Calabaza, Florida Atlantic Red Grouper with butternut squash puree, fennel and pumpkin seeds, or Atun crudo con piparras, thinly sliced tuna with Piparra dressing and fresh lemon. Additional Spanish-style tapas and signature paellas are also available.
Maria and Enzo's at Disney Springs  
Inspired by the works of American mystery and horror writer Edgar Allan Poe, Maria and Enzo's will be serving a variety of signature cocktails and mocktails this season, available after 4 pm. See below or here for the full menu.
Red Death – $22

Espolon, combier, lime juice, sour mix, hibiscus syrup, garnished with masquerade mask

Tell-Tale Martini – $22

Vanilla vodka, chambord, pama, lemon juice, grape simple and candy eye

Raven's Glare – $22

Lemon cookie margarita featuring Espolon, combier, lemon juice, sour mix, cookie syrup, garnished for the season
*Try all three of the dark and dreamy Halloween creations with Cask of Halloween Spirits flight for $31*
Fall of the House of the Apples – $22

Pear and apple brandy cocktail with St. George Spiced Pear Liqueur, absolut pear, apple juice and ginger ale, with apple gummy garnish

Black Bird Brew – $17

Fruity and festive mocktail with sour apple, grape, sprite, glow cube, halloween garnish
The Edison at Disney Springs
The lavish, 1920s-themed restaurant, bar and entertainment destination will offer its unique Halloween cocktail throughout October. The Blood Donor isserved in a blood bag and combines Aperol, Solerno, Espolòn Silver, lime juice and simple syrup to make a vivid crimson concoction — eerie, yet delicious.
Morimoto Asia at Disney Springs
Toyko Ghoul: $18, made with Hendrick's Gin, midori, cointreau, yuzu, lemon, monin agave and ginger bitters.
7 – Walt Disney World Celebrates New EPCOT Attraction Opening with Community
Disney's Journey of Water: Inspired by Moana attraction is in a soft opening. Recently, special guests of Disney were able to enjoy the attraction. Disney Cast Member Tajiana Ancora-Brown shares more below.
It's almost time to set sail! The grand opening of Journey of Water, Inspired by Moana is just days away and we can't wait for voyagers from near and far to explore the wonders of water in new and exciting ways. To help us celebrate this latest addition at EPCOT as part of the park's ongoing transformation, we invited some special "wayfinders" from the Florida community and beyond to channel their inner Moana and experience the attraction before its official debut on Oct. 16.
Orange County Mayor Joins Boys & Girls Clubs for Attraction Sneak Peek
Students from the Boys & Girls Clubs of Central Florida had the time of their lives befriending the ocean – from literally creating waves, to making music with strings of water and even discovering how water connects people all over the world. It warmed my heart to see them laughing, learning and sharing in this truly unique experience together. Diving even deeper, Walt Disney Imagineers spent some time with the young voyagers, providing a peek behind the curtain into how the beautiful, lush landscape and interactive experience was created.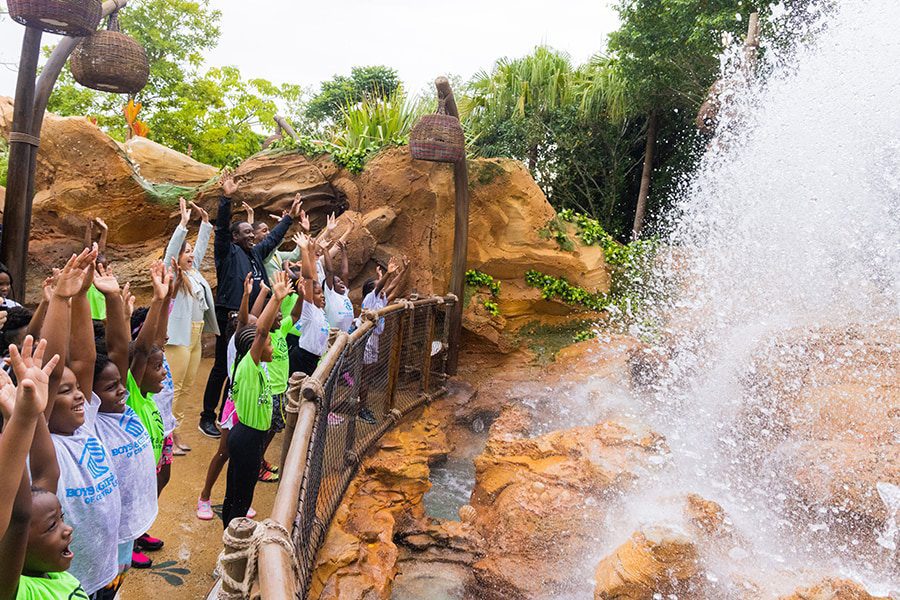 Once a Boys & Girls Clubs member himself, Orange County Mayor Jerry Demings joined in the fun, helping students learn all about water conservation and how we can protect our planet together right here in Florida.
"As a former cast member and now Orange County Mayor, I see how invested Disney is [and has been] in making positive impacts for our community," said Mayor Demings. "What they're doing at this attraction in teaching the importance of water conservation to the thousands of guests who visit EPCOT each day will translate to awareness for our environments here in Florida and around the world."
Wishes Come True at Journey of Water, Inspired by Moana
Journeying from farther north, we also hosted a brave warrior from Maine and his family for an extra special wish trip to Walt Disney World. Nine-year-old Carter has been in and out of hospitals since he was 4 months old, and his family has been looking forward to this trip to make some happy new memories together. He wished to meet his favorite Disney hero, Moana. So, who better to be the first guest to meet Moana in her new greeting location at EPCOT than Carter? His eyes lit up when he first saw the strong-willed wayfarer and that smile never left his face as he splashed around inside the attraction joined by two of the Imagineers who dreamed up the new trail.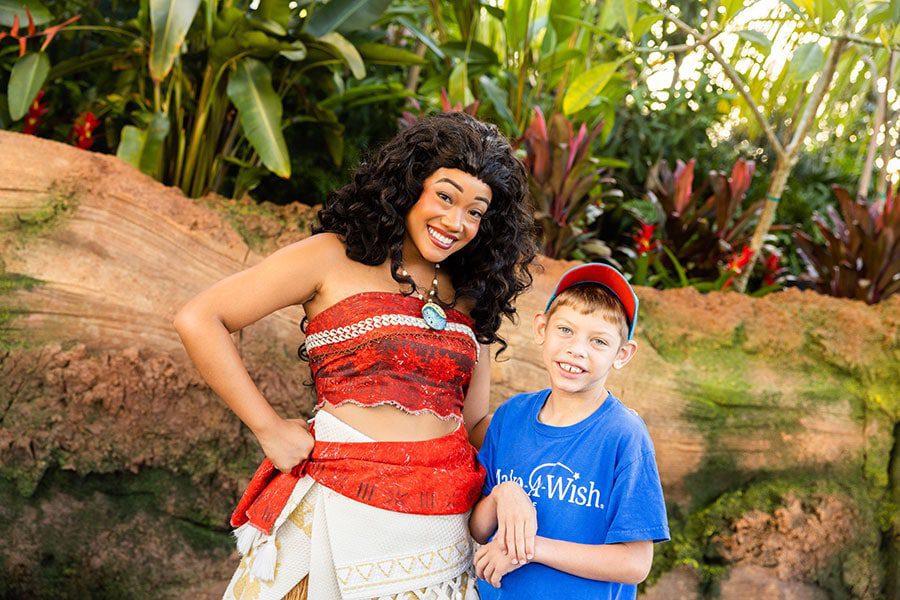 Wish-granting is a huge part of who we are at Disney, and I can't wait to see all the other wishes that will come true at this incredible new attraction just like Carter's alongside our friends at Make-A-Wish and other wish-granting organizations.
And, this was just one part of his wish trip! In addition to exploring all four theme parks, our friends from Give Kids The World Village hosted Carter and his family for a week-long stay. Give Kids The World plays an integral role in our wish-granting efforts here at Walt Disney World and provides a space for children facing critical illnesses and their families to laugh, play and create priceless memories together away from hospital visits and medical procedures.
Special experiences and surprises like this are part of our every day here at Walt Disney World! We've also had the chance to make big differences in our state through other recent efforts like granting $1.5 million total to 15+ local nonprofits, hosting our resort's largest wish-granting event ever and more. I'm so proud of the happiness we're creating here and can't wait to see what else our cast members will dream up for families in the future, especially as Disney plans to invest more than $60 billion in our Parks, Experiences and Products around the world over the next ten years.
Journey of Water, Inspired by Moana officially opens on Oct. 16 which coincides with the 100th anniversary of The Walt Disney Company – talk about an exciting day! Be sure to stay up-to-date with our latest adventures at our resort and around the state at DisneyFlorida.com. I can't wait to see how far we'll go … together.
What's New and Happening Now at Walt Disney World Resort
Now Through November 1, Select Nights – Mickey's Not So Scary Halloween Party
Click here for "The 2023 Mickey's Not-So-Scary Halloween Party – Our Review and What You Need to Know."
Click here for "Can't Miss Entertainment at Mickey's Not-So-Scary Halloween Party."
Click here for the line-up of special food and beverage items coming to Mickey's Not So Scary Halloween Party.
Now Through November 18 – EPCOT Food & Wine Festival
Click here for "What's New at the 2023 EPCOT Food & Wine Festival and Why You Don't Want to Miss It!"
Coming Soon to Walt Disney World
New & Coming Soon to Disney Cruise Line