Are you a collector of Disney recipes? Disney has shared another recipe that we're really excited about. Learn more below.
Here are all the details from Disney Cast Member Katie Wilson:
Trying new foods is a great way to experience a country and its culture. If you've wanted to experience Colombia and all it has to offer, you'll be excited to learn about the new Adventures by Disney trip to Colombia we recently shared. This trip is an excellent introduction to the country's fantastic food, friendly people, joyful music, and astonishing natural beauty. The country also served as inspiration for Walt Disney Animation Studios' "Encanto," which introduced us to Mirabel and the entire Madrigal family!
One of the highlights of the trip is the opportunity to learn to make arepas – a traditional Colombian dish – just like Julieta Madrigal, Mirabel's mom, did for her family in the film. Just thinking about it made us hungry for arepas! So, we had to ask Colombian-born Disney Chef Danny Contreras for an arepa recipe – a favorite from the EPCOT International Food & Wine Festival recipe vault.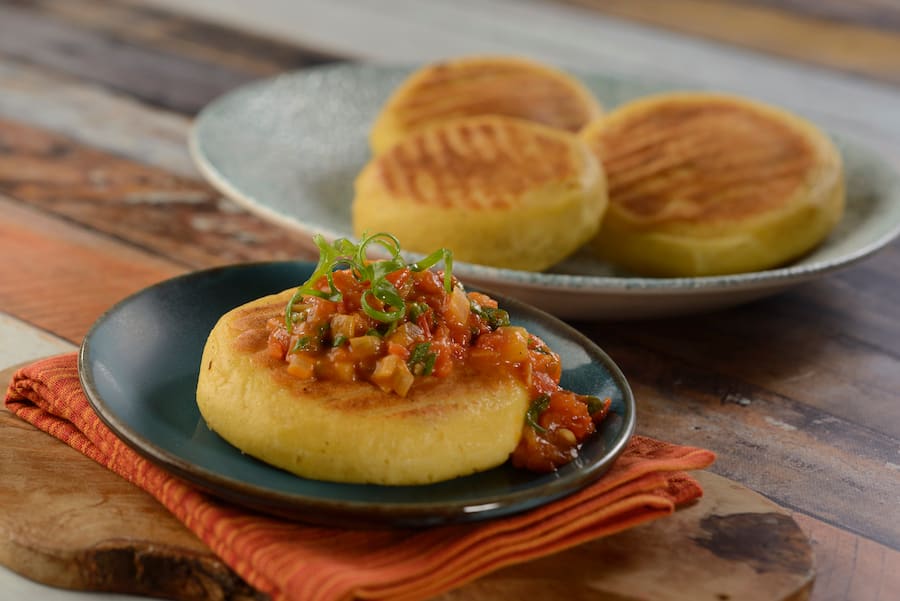 Arepas start with three simple ingredients: pre-cooked corn flour, water, and a little fat, such as butter, to bind the dough together. They can be made savory or sweet with meat or cheese. Chef Danny loves to make arepas with his daughter as a way to share his Colombian heritage. Chef Danny's father was known for saying, "A meal without an arepa isn't a complete meal."
The recipe I have for you today is filled with pork rillettes, a cooking style for the pork, and topped with hogao, a Colombian tomato-based sauce with garlic and cumin. Hogao is a Colombian tomato-based sauce with garlic and cumin.
Here is a delicious arepa recipe for you to get a taste of Colombia from your own home. Included on the recipe is artwork of Julieta, drawn specially for you by Disney Animation Supervisor Michael Woodside.
Download Full Size PDF of Recipe
Chef Danny recently chatted with Thomas Mazloum, president of Disney Signature Experiences, about arepas and the new Adventures by Disney trip to Colombia.
RELATED ARTICLE: Adventures by Disney to Take Guests to Colombia, the Country that Inspired Disney Animation's "Encanto"
The beauty and storytelling of Colombia, the magnificent coastlines and historical sites in Eastern Canada's Maritime Provinces, plus an enhanced New Zealand itinerary packed with action and adventure welcome guests traveling with Adventures by Disney in 2024.
Headlining the new destinations is Colombia, whose people and cultures sparked the imaginations of Disney storytellers as they created the Walt Disney Animation Studios' Academy Award-winning film "Encanto." Now, the travel experts at Disney have curated a one-of-a-kind adventure filled with new discoveries and experiences inspired by the film, and families can go "set-jetting" on their dream trip and see the movie come to life.
"At Adventures by Disney we take families to destinations they want to visit around the globe and make it easy to immerse themselves in new places, cultures and experiences," said Nancy Schumacher, senior vice president and general manager of Adventures by Disney. "We are excited to include Colombia in our 2024 lineup, as this country has been an inspiration for Disney stories that are loved the world over. I'm proud of our team for thoughtfully crafting an authentic travel experience that celebrates this incredible destination."
More information about Adventures by Disney, including the full line-up of itineraries in 2024, can be found at AdventuresbyDisney.com.
An All-New Adventure to Colombia: Bogota, the Coffee Region, Cocora Valley and Cartagena
On this new adventure, guests will be immersed in the diverse cultures and landscapes, get a true taste of the local cuisine, and discover the unique characteristics and beauty of this destination. The brilliant colors found in neighborhoods and architecture, the lush, green landscapes with towering wax palm trees and a kaleidoscope of butterflies, family recipes, traditional customs and music will surround guests as they embrace the splendor of the second most biodiverse country in the world through access and experiences as only Disney can provide.
From the moment "Encanto" directors Byron Howard and Jared Bush visited Colombia, they felt the immediate connection to the country and its people and knew it would be the home of the Madrigal family.
"Every Disney Animation film begins with research, and the trip we took to Colombia as we were developing 'Encanto' with Lin-Manuel Miranda immediately brought the story of this magical place and our wondrous Madrigal family to life," said Howard and Bush. "Colombia is a crossroads of Latin America, and what we learned about family, tradition, music, food and dance were central to the development of the film. Our hope was always that 'Encanto' could celebrate just some of the many different people and cultures we experienced in Colombia – we are thrilled and touched that so many people have felt seen by the Madrigals' story and now have this opportunity to experience its magic for themselves."
Highlights of this eight-day, seven-night itinerary include:
Visiting the capital city of Bogota, where guests will embark on privately guided tours of the Paloquemao Market and Historic City Center.
Enjoying Colombian coffee and visiting a coffee farm in the Coffee Region to see the process for growing and harvesting coffee beans. The nearby town of Salento is part of the inspiration for the setting of "Encanto," and the Cocora Valley features the tall, towering wax palms and butterflies as depicted in the film.
Experiencing a hands-on arepa-making class, a traditional Latin American dish showcased in "Encanto" by Mirabel's mother Julieta.
Playing the country's national sport of tejo, as seen in the film.
Exploring the city of Cartagena, which inspired the film's colorful architecture and fabrics. Central to "Encanto" is the Afro-Caribbean influence, prominent in this city.
Trekking the dry forest near Proyecto Titi, an organization dedicated to the preservation of the cotton-top tamarins, a project supported by the Disney Conservation Fund. It was Colombia's rich biodiversity that inspired the magical ability of the "Encanto" character Antonio, who has the power to communicate with animals.
Snorkeling among the Rosario Islands, a collection of 27 islands home to more than 1,300 species of marine animals, vibrantly colored fish and plants.
Each travel party booked on the inaugural 2024 Adventures by Disney Colombia season will receive a signed lithograph of never-before-released artwork from Walt Disney Animation Studios. This piece of visual development artwork by "Encanto" Associate Production Designer Lorelay Bové set the early concept for the new door to Casa Madrigal that would be revealed at the end of the film – a symbol of the new miracle that Mirabel and her family create together through honesty and love. Bové's work includes such Walt Disney Animation Studios films as "The Princess and the Frog," "Tangled," "Zootopia," "Big Hero 6" and more.
Adventures by Disney is opening new doors, creating even more ways for families to discover a different kind of magic: the magic of the world around them.
Booking Information and Details
For nearly 20 years, guests traveling with Adventures by Disney have explored some of the most sought-after places in the world, and the travel brand's global portfolio has expanded to now offering more than 40 guided-group adventures across all seven continents by land, by river cruise and by expedition voyage. Disney-trained Adventures Guides accompany every trip and bring the magic to life. Their masterful storytelling, in-depth knowledge of the places visited plus their attention to every detail ensures guests enjoy a hassle-free vacation and foster lasting connections with every destination. The authenticity and immersion in the places and cultures visited, plus insider access and activities, are at the heart of every Adventures by Disney vacation.
To learn more about Adventures by Disney or to book a vacation, visit AdventuresbyDisney.com, call 1-833-223-0103 or contact a travel agent.

For a no obligation, FREE Quote on a Disney vacation package, please contact our travel partner Magical Vacation Planner at 407-442-0227 (407-442-0215 for Spanish). You can also request a FREE quote online by Clicking HERE.
The post Disney Recipes: White Corn and Mangalitsa Pork Arepas with Hagao Recipe appeared first on DisneyLists.com.