DISNEY NEWS ROUNDUP: Christmas Party Dates & Details; Brand New Holiday Party @ Hollywood Studio; Dining Plan Now Available to Book; Disney Cruise Holiday News & More
After a relatively quiet few weeks on the Disney news front, we got a flurry of announcements from Disney World, Disney Cruise Line, and more. The Disney Dining Plan is once again available to book along with 2024 packages, which are now available to book. Now that we're at the halfway point to the holiday season, we also saw a bunch of holiday-related announcements regarding Mickey's Very Merry Christmas Party, holiday offerings around the Walt Disney World resort area, and a brand new party being offered at Disney's Hollywood Studios. Disney Cruise Line also got in on the action with news on holiday-themed cruises, special holiday offerings across the fleet, and more. All this and more are below in this week's Disney news roundup.
1 – Disney Dining Plans Now on Sale
2024 Vacation packages are now on sale, and the new 2024 Disney Dining Plans are available with them. More details on the two different plans were released when the packages went on sale. Learn more about the dining plans at the links below.
Click here to learn more about the 2024 Disney Dining plans.
2 – Dates and Details Announced for 2023 Mickey's Very Merry Christmas Party and Other Holiday Offerings at Walt Disney World
There's so much to look forward to for the holidays this upcoming season at Walt Disney World. Holiday magic can be found across the 40-square-mile resort, from theme parks and water parks to resort hotels and shopping, dining and entertainment districts. The popular Mickey's Very Merry Christmas Party, EPCOT Festival of the Holidays, Sunset Seasons Greetings at Disney's Hollywood Studios and more return to make the season bright. Learn more about the offerings coming later this year at the link below.
Click here for dates and details for 2023 Mickey's Very Merry Christmas Party and other holiday offerings at Walt Disney World.
3 – New Holiday Event at Disney's Hollywood Studios Announced for 2023
Disney's Hollywood Studios will host a brand-new nighttime party, Disney Jollywood Nights, on ten select evenings from November 11-December 20, 2023 this holiday season. The separately ticketed event, which takes place 8:30 p.m.-12:30 a.m., invites guests to experience an evening full of merry mashups, delicious tastes and sips, iconic throwback characters, and a holiday vibe full of glitz and sparkle. For an extra dose of cheer, the party wraps with the return of the nighttime spectacular, "Jingle Bell, Jingle BAM!" Learn more about the new party event at the link below.
Click here to learn more about the new hard-ticket holiday event at Disney's Hollywood Studios.
4 – Disney Cruise Line Releases Additional Details on 2023 Holiday Entertainment and Offerings
The most wonderful time of the year will be even more joyful this holiday season as Disney Cruise Line unwraps new festivities for the whole family aboard Very Merrytime cruises. With two brand-new entertainment experiences, Disney characters dressed in jolly new looks and celebratory activities for the whole family, Disney Cruise Line will be filled with the spirit of the holidays this year. Learn more at the link below.
Click here to learn more about 2023 offerings on Very Merrytime Cruises on Disney Cruise Line.
5 – 2024 Disney Cruise Line Halloween and Holiday Cruises Announced; On Sale Soon
The fun of fall and winter holidays will meet the magic of Disney Cruise Line in late 2024 with the return of Halloween on the High Seas and Very Merrytime Cruises. With rare itineraries to Hawaii and the South Pacific and more opportunities to visit Disney's newest island destination in The Bahamas, families will have the chance to experience the fall seasons at sea in new and exciting ways. Bookings open to the public on June 26, 2023. Learn more at the link below.
Click here to learn more about 2024 Halloween and Holiday Cruises on Disney Cruise Line.
6 – Disney's Animal Kingdom Celebrates 10 Years of the Wilderness Explorers Program
The popular Wilderness Explorers Program recently celebrated its 10th Anniversary. Disney Cast Member Dr. Mark Penning shares more below:
"The wilderness must be explored … caw, caw, ROAR!" That's the motto embraced by more than 23 million guests who've participated in the Wilderness Explorers program since its start in 2013 at Disney's Animal Kingdom Theme Park.
This fun and interactive program enables guests of all ages to be a hero in their own conservation story as they participate in a series of self-guided activities to learn about plants, animals and conservation.
Guests can earn more than 20 badges that range from helping save endangered species to recycling and protecting wildlife. Many of the messages weaved into the program align with Disney's Planet Possible, inspiring guests to picture what's possible when they take action to help the planet – at the parks and at home!
"Seeing this program come to life through the eyes of Wilderness Explorers from across the globe has been incredibly inspiring," shares Nadine, a 21-year cast member and guest animal experience director.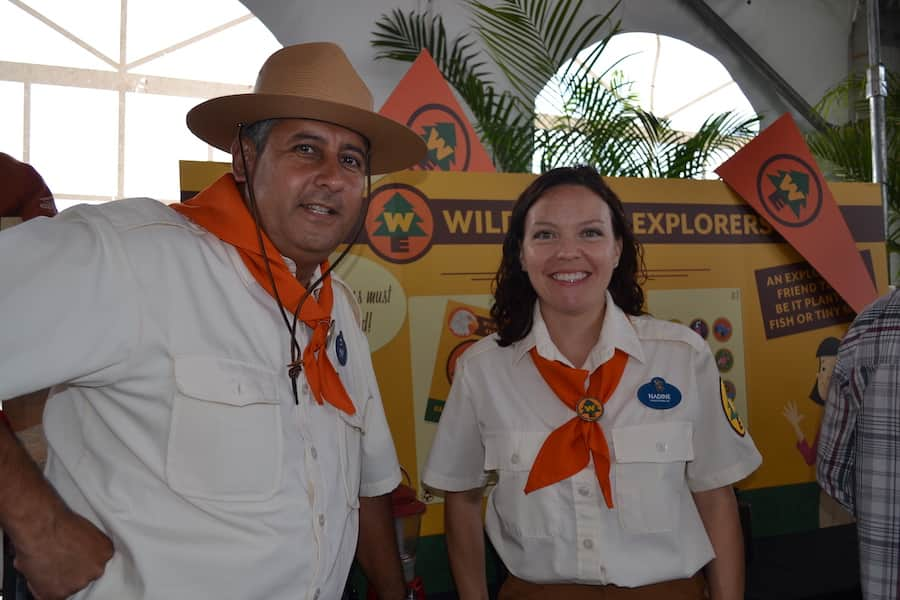 Nadine's passion for conservation and animals led to her assisting with the launch of the Wilderness Explorers program after the theatrical release of Pixar's "Up." The program's motto, "A Wilderness Explorer is a friend to all, be a plant, or fish, or tiny mole," comes directly from the film.
Since debuting, more than 600 cast members have been part of the Wilderness Explorers program, and it continues to inspire new cast members.
Current Wilderness Explorer Victoria first heard about the program at an information session during her Disney College Program. She recently had a full-circle moment when she returned to the same panel that inspired her to apply to the program.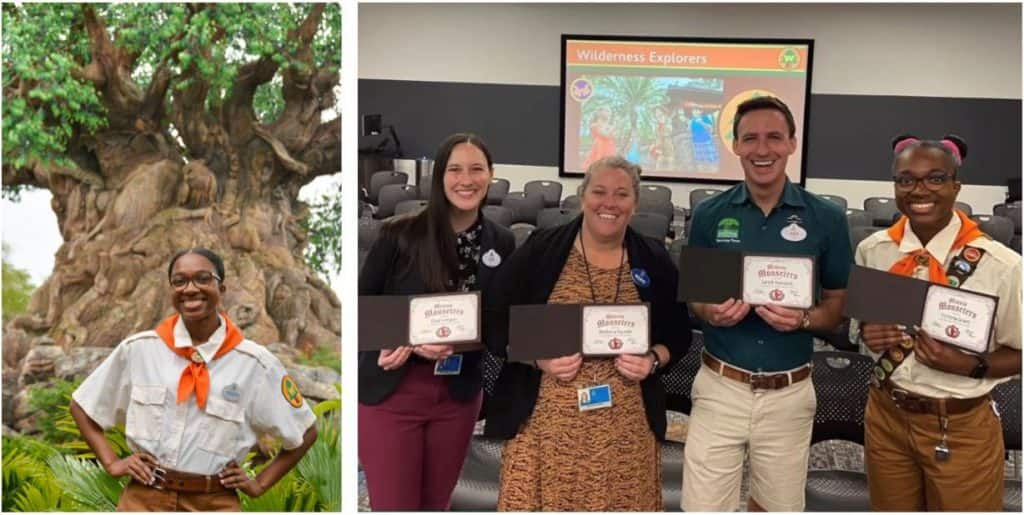 "To be able to come back and inspire other interns to take their passion for conservation and the environment and extend those messages to guests is very rewarding," Victoria said.
The Wilderness Explorers program supports Disney's Planet Possible, a commitment to a brighter future supporting a healthier planet for people and wildlife. Since 1995, the Disney Conservation Fund has directed more than $125 million to save wildlife, inspire action and protect the planet.
Are you ready to earn your first badge? Become an official Wilderness Explorer on your next trip to Disney's Animal Kingdom! Simply look for the Wilderness Explorers banner as you enter the park, located between the Oasis and Discovery Island. And make sure to pick up your own handbook to help you follow in the footsteps of Russell, the junior Wilderness Explorer from Pixar's 2009 endearing movie "Up."
7 – Update on Disney Floral & Gifts at Walt Disney World
Beginning Aug. 27, 2023, Walt Disney World Resort will transition its floral & gifts operations to a new Central Florida third-party vendor. As a result, guests and clients will not have the option to add floral, gifts, and other related Disney Resort hotel in-room amenities to Walt Disney Travel Company packages. These amenities can continue to be added to Walt Disney Travel Company packages that will be fulfilled on or before August 26.
8 – Mixology Sunset Dinner Series at The Edison
The Edison at Disney Springs invites guests to discover a new installment of its Mixology Sunset Dinner Series, featuring an elevated three-course menu and craft cocktails pairings to be enjoyed with gorgeous views of Disney Springs' sunset. The Edison's star team of mixologists and chefs have created a spectacular June menu, bringing out the floral, grassy and woody flavors of summertime through carefully curated pairings that hint of citrus, ginger and smoke. This intimate experience will take place on June 22, with two seatings to choose from — a non-smoking dinner in The Edison's dining room at 5:30 p.m. for $75++ per person, and a cigar-pairing dinner at 8 p.m. on The Edison's Lake Side Patio for $95++ per person. Guests are also offered the chance to enhance their experience with a specialty beverage upgrade, including a glass of D'USSÉ XO cognac, delivering ripe blackberry and apricot flavor notes layered with hints of rich dark chocolate and walnut for an exceptionally balanced finish to the evening, at an additional $25 per person. Tickets are extremely limited and are available for guests ages 21 and older.
See full menu below:
Featured Cocktails:
The Gray Area – Leblon cachaça, Montelobos mezcal, crème de violette, lemon and agave
Deconstructed Sazerac – D'USSÉ cognac, Lucid absinthe and Peychaud's bitters
Smoking Gun – Patrón Añejo, Stirrings ginger liqueur, orange bitters and agave
Specialty Menu:
Mexican Street Corn – Poached & chargrilled corn, cotija cheese, Salsa Macha, lime aioli and cilantro
Confit Halibut with Fennel Puree – Bacon confit halibut and smoked fennel puree
Beef Sisig – Shaved beef, chicken liver, calamansi, rice and quail egg
Specialty Beverage Upgrade:
Glass of D'USSÉ XO cognac (+25) – Ripe blackberry and apricot flavor notes layered with hints of rich dark chocolate and walnut
Click here to purchase tickets.
9 – Disney Cruise Line Recognized for Award-Winning Service and Dining Experiences
Disney Cruise Line has again been recognized as an industry-leader for delivering outstanding customer service and exemplary dining experiences.
Recently named a Customer Experience All-Star by Forbes and identified by readers of Food & Wine as having one of the best culinary experiences at sea, we are proud to welcome guests with our signature service and immersive storytelling – all while helping to create memories that last a lifetime. On behalf of all our cast and crew members, we are honored to be named among the best at sea by both Forbes and Food & Wine.
10 – Disney Cruise Line Earns Port of Vancouver's Blue Circle Award for Environmental Stewardship
Disney Cruise Line (DCL) received the Vancouver Fraser Port Authority's Blue Circle Award for the 10th consecutive year, recognizing the cruise line's participation last year in the port's voluntary EcoAction Program and Energy Action Initiative.
"This award demonstrates our long-standing commitment to operating responsibly and sustainably, especially while sailing in the Pacific Northwest," said Barry Compagnoni, DCL's Vice President for Safety, Security and Environmental Policy and Compliance. "By doing our part to reduce emissions, conserve energy and protect the rich biodiversity of the region, we are proud to continue our legacy of taking actions that support a healthier environment."
One of the primary ways DCL reduces its impact on the environment while sailing in Alaska and Canada is to turn off the ship's engines and rely on the port's shoreside electricity grid when available. While 'plugged in' to shore power, the ship's onboard lighting, air conditioning and other guest- and crew-facing systems were able to run nearly emission-free. Specific to Vancouver, where the port's electric grid is supplied by hydro- and wind power, the Disney Wonder eliminated 99 percent of emissions by using shore power every time it called on Vancouver last year.
Using shore power is just one of many ways that DCL strives to minimize its impact on the environment, in support of The Walt Disney Company's commitment to reach net-zero emissions by 2030.
Among other initiatives, the cruise line continues to invest in low-emission fuels including using ultra-low sulfur fuel on the Magic and Dream classes of ships and liquefied natural gas (LNG) on its newest class of vessels, along with plans to use green methanol on a newly acquired ship that will homeport in Singapore in 2025. In addition, DCL has nearly eliminated all single-use plastics across its fleet by no longer using plastic straws, switching to refillable bath product dispensers in guest staterooms, removing plastic bags from onboard merchandise locations, and replacing plastic water bottles with recyclable aluminum ones.
What's New and Happening Now at Walt Disney World Resort
March 1 – July 5, 2023 – EPCOT Flower and Garden Festival
Click here for details on the 2023 EPCOT Flower and Garden Festival and what you don't want to miss!
Click here for the menus for the 2023 EPCOT Flower and Garden Festival.
Click here for details on the 2023 Garden Rocks Concert Series.
Now Open – Tron Lightcycle Run – Magic Kingdom
Click here for our review and what you need to know about TRON Lightcycle / Run.
Coming Soon to Walt Disney World
New & Coming Soon to Disney Cruise Line